SUBURBAN MANNERS
" Callahan has stories to tell — funny, bitter, nostalgic, infuriating — whose purpose is a kind of environmental restoration. No one can bring back the erased Orange County of endless dry hills and canyons ending in the Pacific surf, but Callahan's stories can overlay the county's suburban tracts with memories. Think of these pieces as antidotes to anonymity."
— D. J. Waldie
Holy Land: A Suburban Memoir
California Book Award Gold Medal Winner
It was the summer of 1996. Bill Clinton was re-defining our understanding of "sexual relations," 911 was still a phone number, Philip Morris had yet to change its corporate name, the OC was a weekly newspaper, not a Fox TV show, Tickle-Me-Elmo dolls were all the rage . . . and, in America's most famously conservative county, whispers that Nathan Callahan might be the Mark Twain of his generation were growing louder.
"You can't understand what's happened in America over the past 50 years without understanding Orange County, and Nathan Callahan now offers us a delightful way to do that. Suburban Manners takes Orange County – its politics, land deals, traffic and folkways — seriously, which is to say, it's funny and outrageous."
— Harold Meyerson
Executive Editor
The American Prospect
Subversive and thought-provoking, this collection of Callahan's writings offers a lively deconstruction of contemporary culture at its most absurd. The rich and powerful, the sexually challenged, the religiously restricted, William Burroughs' ghost, Donald Bren, the Clinton Administration, daredevils, dogs, and the dead, all come to life as Callahan encourages the reader to peer into the center of the suburban dream and snicker.
"In Nathan Callahan, Orange County, California has at long last produced its own Mark Twain. Witty, pugnacious
and perceptive Suburban Manners exposes, dissects, and demystifies the ordinariness of power — political, social, and economic — in one of America's most consequential, yet little-understood regions."
— Mark P. Petracca, Ph.D.
Chair, Department of Political Science
University of California, Irvine
"Orange County lives on the edge of history — opulent, bankrupt, cranked-up, young, uncertain, curiously urbane and countrified," Callahan tells us. "It's a house on stilts, a sacred mission, a last resting place, an anonymous beast, a corporate high-rise, a hoot, a riot, a rip-off, and a ridiculous bore."
Callahan can be deceptively coy and annoyingly candid. His work both beguiles and agitates. A panoramic and captivating portrait that lingers in your mind long after the final page, Suburban Manners speaks to the contradictions and comedy of life itself.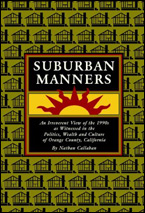 215 Pages / paperback
$16.95215 Pages / paperback
$16.95